World Ocean Media
The ocean demands new communications stragtegies for building public awareness and political will. Media tools such as the Internet, television, radio, podcasts, grassroots cooperative messaging, advertising, public relations and educational services can quickly expand an audience from hundreds to millions. Moreover, recent media productions have brought astonishing insights about the ocean to mass audiences worldwide.
| | |
| --- | --- |
| | World Ocean Radio, a project of the World Ocean Observatory, is a weekly series of five-minute audio essays available for syndicated use at no cost by community radio stations worldwide. Peter Neill, Director of the World Ocean Observatory and host of World Ocean Radio, provides coverage of a broad spectrum of ocean issues from science and education to advocacy and exemplary projects. |
| | The Thank You Ocean Report focuses on interesting and exciting California ocean topics such as marine mammals, the latest news on ocean health, timely ocean issues and fascinating ocean facts. Stories feature interviews with ocean experts, explorers, scientists, conservationists, government and business leaders. Listeners learn about ocean activities and recreation, surfing, fishing, boating, and the many ways we all can thank the ocean through conservation and stewardship. |
| | A 5-part series from the Los Angeles Times that examines the issues of our endangered seas, which are struggling to deal with the torrent of waste humans pour into them every day... |
| | Sound journalism for the planet. |
| | Earth & Sky is a clear voice for science and began producing its award-winning science content in 1991. Today, EarthSky science interviews and other audio and video content are seen, heard, or read millions of times every day on multiple platforms via both broadcast and Internet outlets. |
| | Video segments from Greenpeace focusing on critical ocean issues. |
Over 300 films on any subject that concerns the sea.
Experts reconstruct the 2004 Tsunami in an effort to prepare for the next big one.
A natural history of the oceans. In eight segments, David Attenborough and the BBC explore the deep to the shore, from pole to pole.
"All you ever wanted to know about creatures in the sea,..." including multimedia classroom experiences.
A daily radio feature that brings listeners around the world news and information about issues related to the ocean. The show presents solutions to shared problems and suggestions on how listeners can help preserve our most vital natural resource.
SeaWeb (Ocean Science and Journalism)
SeaWeb's programs combine science, communications and policy expertise to recruit and amplify leading voices for ocean conservation.
Pulse of the Planet (Radio sound portraits and interviews)
Pulse of the Planet provides its listeners with a two-minute sound portraits of Planet Earth, tracking the rhythms of nature, culture and science worldwide and blending interviews and extraordinary natural sound.
EarthWatch Radio (Radio spots on climate and oceans)
Produced by the Sea Grant Institute at the University of Wisconsin-Madison from 1972 to 2007, EarthWatch covered a wide range of subjects that concern science and the environment and gave special attention to global climate change, the Great Lakes and the oceans. Archived scripts available from January 1, 1990. Digital recordings available from September 22, 2003 through May 22, 2007.

DISTANCE LEARNING RESOURCES
To support all educators and parents teaching from home in the weeks ahead, the World Ocean Observatory is pulling together a compendium of home-study tools and resources for teaching and learning about the ocean. These resources can be used by parents, schools, educators and others to address the educational gaps being created by local and national 'shelter in place' initiatives to help flatten the curve on the Covid-19 outbreak. This list of resources is a work in progress: please reach out if you have other key elements that we should be sharing with our global community.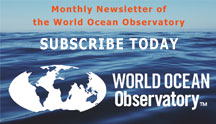 WORLD OCEAN EXPLORER 2020
With a game capable of reaching a global audience, WORLD OCEAN EXPLORER can expand interest in ocean issues and habitats, and excite students about the infinite possibilities associated with ocean exploration. LEARN MORE.